Frequently asked questions
Are there nearby services?
---
MoTown is a very remote place, the nearest services are in the towns of Maricopa and Gila Bend, both are over 30 miles away. If you forget something it is a long drive to get it.
---
Is food available?
---
A food truck is available for breakfast, lunch, and dnner. Saturday's catered dinner is included with Whole Enchilada tickets but can also be purchased seperatly. You will need to bring food/drinks and a way to refrigerate/cook for other meals and snacks.
---
What will the weather be like?
---
Winter in the Sonoran Desert has extreme temperatures that can range from the 90's during the day to below freezing at night, and rain is always possible even in the desert. You should pack warm, cold, and wet weather clothing and gear. If camping, be sure to bring a waterproof tent and warm bedding. Check our weather page.
---
What should I bring?
---
MoTown is very remote and it is a long way to the nearest town if you forget something. Electric is by generator only. Well water is available but you should bring plenty of drinking water. Breakfast, lunch, and dinner are available from vendors, but you will need to bring any other food, snacks, or drinks. You should have clothing for temperatures from 90 degrees to below freezing, and there is always a possibility of rain even in the desert. Bring everything you will need for several days in the remote Sonoran Desert, including a waterproof tent/RV, warm bedding, chairs, food, drinking water, drinks, flashlight/headlamp, sunscreen, sunglasses, hat, medical kit, medication, camera, FRS radio (if flying). Don't forget something for show and tell! We also ask that attendees contribute something to the event. From clean-up volunteers to flamethrowers' it's the contributions that make this event so special.
---
Are there bathrooms available?
---
Porta potties are available. Showers are not provided but well water is avaible for portable shower systems.
---
Are RV hook-ups available?
---
No, but well water is available, however, this water has not been tested for potability. Dumping tanks is not allowed.
---
Are hotels nearby?
---
The closest hotels are in the Town of Gila Bend or the City of Maricopa both about an hour's drive.
---
What is the road to MoTown like?
---
South of the highway the road becomes dirt. The Maniac's work hard to keep the road graded so passenger cars and motorhomes can safely travel to MoTown. Please obey the speed limit of 15 mph, speeding damages the roads. A significant contribution to corrugation (ruts) formation is suspension articulation. Going slowly reduces the force that the vehicle's articulating suspension applies to the ground. This means corrugations take longer to form and won't become as large. What an awesome reason to go slow. Less corrugations for everyone! Speeding also dusts our neighbors. Unhappy neighbors contact the authorities, and the authorities can shut down our party. Be considerate of others.
---
Are pets allowed?
---
We strongly recomend leaving your pets at home. Aircraft, explosions, fireworks, and gunfire are not just hazardous to pets, even the most calm pets can be freightend and run away. MoTown is surrounded by miles of wilderness and wild animals. When pets run off they are seldom found. Sadly, many pets have been lost at MoTown. Pets must be kept on a leash at all times and waste immediately picked up. Excessive barking is not tolerated. You must supervise your animal at all times.
---
Are there age requirements to enter the event?
---
No, but children must be supervised and accompanied by a ticket-holding adult legal guardian. Kids under 16 years old come for free. The Kid pass is for entrance only and does not include any extra's. Keep in mind, children may be exposed to language, nudity, or other inappropriate actions. Also, there are no safety rails around anything at MoTown, you are responsible for your childrens safety!
---
Is there a place to charge my devices?
---
Yes. There is a charging station in the pilot lounge. The AFC is not responsible for lost, stolen, or damaged items.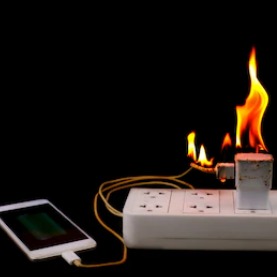 ---
Does MoTown have cellular coverage?
---
Verizon: Voice - good. 4G data - fair. Sprint: Voice - fair. 4g data - poor. AT&T: Voice - poor, 4G data poor. T-mobile Voice - fair, 4G data poor.
---
We have multiple people in an RV. Do we all need tickets?
---
Yes. Everyone needs a ticket to attend. Camping is included with all tickets.
---
Do I have to bring my printed ticket to the event?
---
No. You may use the digital version on your phone.
---
Is my registration refundable?
---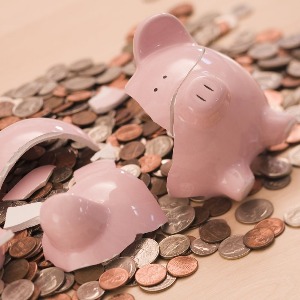 Yes, but only at least 30 days before the event.
---
What are my transportation options for getting to and from the event?
---
The road to MoTown is dirt. We will post road condition reports. If you do not want to drive your vehicle on dirt you may be able to make arrangements to park in a nearby town and carpool with another participant.
---
Is my registration fee or ticket transferable?
---
No.
---
Is it ok if the name on my ticket or registration doesn't match the person who attends?
---
No. The attendee's name must match the ticket.
---
What vehicles are allowed at the event?
---
No gas-powered vehicle use is allowed at the event and they must be parked imeadiatly after entering MoTown. Only Maniacs (volunteers) may use gas-powered vehicles at MoTown. Motor vehicles must stay on designated roads, offroading is not allowed in Vekol Valley. All of the land surrounding MoTown is Sonoran Desert National Monument or privately owned. Please observe the 15 mph speed limit on dirt roads to MoTown, higher speeds dust our neighbors and tear up the roads. Only human-powered and electric vehicles are allowed to commute around MoTown. All vehicles, including bicycles, scooters, and onewheels must obserbe the 5 mph speed limit. Electric vehicles must have smooth tires only (no off-road, knobby tires allowed).
---
Can I bring firearms?
---
Yes, but you must abide by all firearm rules. We take gun safety/etiquette seriously.
---
Who are the MoTown Maniac's?
---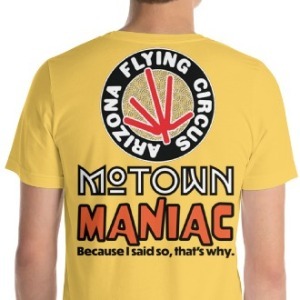 All Maniac's are volunteers, but not all volunteers are Maniac's. The Maniac's are super volunteer's.
---
Is the Arizona Flying Circus an airshow?
---
No. The Arizona Flying Circus is a fly-in at a private airport.

---
Where do I go if I have a question or need help?
---
Registration at the front gate.
---
What is MoTown
---
MoTown is a private airport on 80 acres located thirty miles Southwest of Phoenix, Arizona in Vekol Valley. Motown Airport (5AZ6)
---
Could I be in photogrphs or videos?
---
The ticket holder grants permission to the Arizona Flying Circus LLC and Motown (and their respective designees and agents) to utilize their image, likeness, actions and statements in any live or recorded audio, video, film, or photographic display or other transmission, exhibition, publication or reproduction made of, or at, the event in any medium, whether now known or hereafter created, or context for any purpose, including commercial or promotional purposes, without further authorization or compensation.
---
Can I publish photos or videos of the event?
---
COPYRIGHT STATEMENT This copyright statement applies to all digital or analog recordings or live transmissions of audio, photography, or moving photography recorded on the property of Motown Airport. © Copyright 2021 Arizona Flying Circus LLC. All rights reserved.The Arizona Flying Circus LLC retains all copyrights to all media created on Motown Airport property by this ticket holder. Any audio, photography, or moving photography "media" recorded or transmitted live on the property of "Motown Airport" by the ticket holder becomes the property of the Arizona Flying Circus LLC and is protected by United States and international copyright laws. The ticket holder understands and acknowledges that the Arizona Flying Circus LLC is the copyright owner and that any unauthorized use and/or sale of the above-described media is prohibited. All rights, copyrights, titles, and interest in any recorded audio, video, film, photographs, or live transmissions taken on Motown property belong solely and exclusively to the Arizona Flying Circus LLC free from any claims whatsoever by this ticket holder. The Arizona Flying Circus LLC authorizes personal use only for this media. Any commercial use of this media requires written consent from a member of the Arizona Flying Circus LLC. The Arizona Flying Circus LLC may revoke permission to use this media at any time and for any reason.
---
---